When:
June 18, 2018 @ 6:00 pm – 9:00 pm
2018-06-18T18:00:00+10:00
2018-06-18T21:00:00+10:00
Where:
91 Main Arm Road Mullumbimby

Experience the richness of life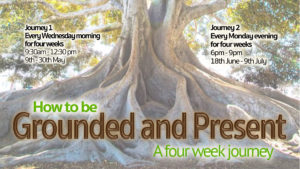 free four week journey: 
How to be
           <<Grounded and Present>>
Explore the inner workings of Being in your Body and "Showing Up" in your life
Do you struggle with low self esteem, anxiety or low energy?
Do you get angry or lose yourself too easily with your loved ones?
Do you feel lost with where you are going in life?
WHAT YOU WILL LEARN
Uncover the practical and ancient wisdom of being grounded: what it means and how to do it in your daily life. Learn how staying grounded can massively impact the way that you think, relate and create in your life. You will learn over 12 practical grounding techniques, as well as movement and meditation exercises to improve your connection with your body and shift your place of belonging in the world.
You will leave this four week journey with a deeper understanding of what it feels like to live in your body, to really be present in your life. We will be looking at many of the common patterns of not being present, such as leaving your body, living in your stories and being all at sea in your emotions, and how to work with these situations. We will also attend to what it feels like to live a full life of presence, how to pay attention and catch those beautiful moments and really "be there" with your loved ones.
Dr. Graham A Barker  says "Grounding techniques are helpful in coping with dissociation and PTSD symptoms."  These techniques are also helpful for dealing with anxiety, shame and feelings of abandonment and can really increase quality of personal life and relationships.
You will learn:
How to stay grounded in difficult situations and be present during difficult conversations
How to regulate anxiety
How to communicate your needs effectively and set good boundaries
How to shift into a positive mental and emotional state
WE WILL COVER FOUR KEY AREAS DURING THIS SERIES:
WEEK 1: The Foundation of Grounding
Practical techniques to 'ground' and help move trauma and difficult emotions through the body
WEEK 2: Tap into the Innate felt sense
Talk to your innate intelligence and the deeper layers of awareness
WEEK 3: Exploring polarities and balance
the impact of stillness and movement in getting and staying present and shifting your state, as well as how to stay grounded while relating to others
WEEK 4: Being present with a focus on the future
Using art therapy and meditation to bring into focus a life of presence and joy
HOW TO BOOK
Bookings are essential: you will be joining a small group with a maximum of 8 people. Participation is by donation to contribute to the venue. Please contact Laing or Kien if you have further questions or would like to book your place.
Kien: Call 0469 174 983 or email kien.hannah@gmail.com
Laing Call 0434 381 007 or email laingstoked@gmail.com