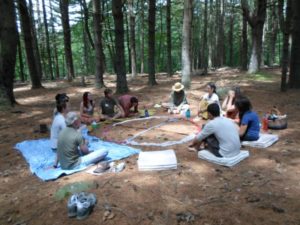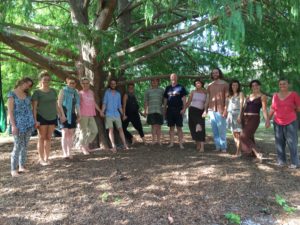 NEXT workPLAYshop
                25 & 26 May 2019- Blackheath
Reconnect to yourself, Reconnect to Life
What you are stepping into:
An experiential workshop to get to know ourselves and replenish our strength when working for change in the paradoxically troubling and inspiring times in which we live.
We invite you to a deeply healing and transformative weekend workshop held in the beautiful and expansive environment of the Blue Mountains.
Guiding this extraordinary weekend is Juli- an individual who passionately names the underlying disconnection in society and co-creates roads to reconnection.
She sparks self & group exploration, & community wellbeing, by creating learning spaces and deep ecology reconnection workshops within which she trusts people to grow their natural desire to learn. Juli's work grew out of 30 years of learning/ teaching with students & families and leading staff & university interns in school communities in Australia and NZ.
Leading this group with her is Pavel;
Pavel believes now is the time to act for the good of us all by offering what we feel called upon to contribute to our collective awakening. His calling is to facilitate group processes that nurture our collective ability to thrive. Pavel developed his craft of facilitation by guiding children, teens and adults in the wonders and mysteries of creative expression, embodied movement and explorations of inner and outer landscapes. As part of the process he offers his love, practice and understanding of permaculture, yoga, meditation and visual arts.
Their work finds a base in WILDSPACE- which they co-founded – a first of its kind, multi generational community learning space in the Northern Rivers of NSW.
https://www.facebook.com/Wildspace-Learning-in-Community-1711119565847319/?epa=SEARCH_BOX
Reconnect to yourself, Reconnect to Life
Deep Ecology Reconnection workPLAYshops, encourage people of all ages to join a 2 day journey with fellow participants. Nature gives us a foundation in a range of experiential scenarios which find expression in solo, 1 on 1 and small group activities.
We come together to
Hear ourselves
Hear each other
Hear the Earth
Reconnect.
Bring about change.
So many of us are seeking to change something in our personal, work, communal and planetary worlds. More and more of us are coming to understand that doing this with others is not only a richer experience but one with more powerful results for ourselves, each other and all life on the planet.
Your commitment: Your presence & energy from 1pm Friday 24thMay through 5pm Sunday 26th.
Our space: A mountain cottage and bush to walk in, feel into, come to know.
Contribution: includes all meals Friday lunch – Sunday lunch
Financial Exchange
$210- waged
$120 – unwaged.
Deposit to be made to secure your place. Contact wildspacelearning@gmail.com for account details.
Overnighting: If you are comfortable camping, you can pitch a tent for $20 for the two nights. If not, please organise a sleeping place. You may live nearby, have a friend's place in which to stay or check out local campsites, cottages or Airbnb.
WorkPLAYshops include up to 16 people and a place must be booked for your inclusion.
You may like to check out workthatreconnects.orgwebsite for a layering of the interrelated themes of deep ecology and time work, systems theory & the core interdependence of Buddhist lines and basic scientific understandings.
"I felt supported by the allowance, the freedom and the validation. Every voice is heard, supported, worked with, not forced to quieten. Juli's system/ structure of education is empowering"
"I feel most people working on this level have a similar care for the environment but a lot of people are caught in their circumstance and don't allow time/ space to connect with others to make environmental goals happen. Spaces like this allow people to gather/ talk/ join. The creek was magical. Great host. Strong yet humble."
Please feel free to contact Juli at wildspacelearning@gmail.com
We hope to share this transformative experience with you.