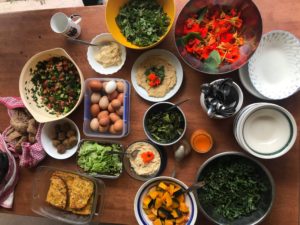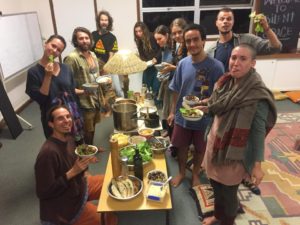 What is a GIFT GATHERING?
A space in which people gather in community to share 3 forms of gifts
6:00pm Collective silence   
7:00pm Potluck meal
7:30pm Share circle or music
Firstly, we sit together in communal silence. People are invited to do whatever they choose as long as it is in silence. There is no right or wrong in silence; some draw, others write or read, yet others sleep and of course many meditate.
Secondly, we eat a meal together. Folks bring a plate of prepared food. We chat about our days and come to know each other.
Lastly, all are welcome to offer any gifts;  your voice, guitar or other instrument, poetry, other writings, a shareable movement or exploration process, mandarins from your garden, a bag of clothing that the family has outgrown or any other gift one can create.
Please note, Gift Gatherings are Family Friendly – as long as the children in your care can be silent for 30 minutes
Gift Gatherings outside Mullum
You may have experienced a Gift Gathering at a conference, retreat, festival or at our home base in Mullum, and you may find yourself called or drawn to create such a space in your home town/ city. Please chat to one of the wildspace team as we support people to set up such spaces, as fits the culture of each unique community.
A little history
Gift gatherings started in Sydney in 2014 with the name Silent Space. We found out, shortly after starting, that Service Space had started a similar experience, called Awakin Circles. Since that time Gift Gatherings have been created in different settings, including many homes. Our dream is that anyone can join a Gift Gathering in their neighbourhood- anyone, anywhere in the world.