When:
May 13, 2018 @ 8:30 am – 10:45 am
2018-05-13T08:30:00+10:00
2018-05-13T10:45:00+10:00
Where:
wildspace
91 Main Arm Rd Mullumbimby
Cost:
Preview by donation, 4 week course $120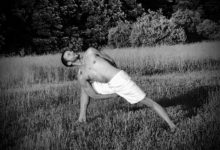 Yoga Connections with Christopher David
PREVIEW for 4 Week Course
Entry by Donation
Connect your physical self to your emotional self. Connect your spiritual life to your social life. Yoga means union. Yoga means attentiveness in all situations. Our practice on the mat is just the beginning.
Deepen your personal yoga practice within the container of intimate community. The unique format of Yoga Connections combines postures, pranayama, and meditation with group sharing and reflection circles. Openly connecting with each other before diving into a class, empowers us to apply Yoga philosophy and practices to life off the mat while feeling supported by a dedicated group of fellow practitioners.
"When life gets in the way of yoga, make yoga your life!"
4 Week Course
May 13- June 3
Course cost $120
Facilitated by Christopher David