COMMUNAL SPACE – Weekly gathering in Katoomba in 2020.
Monday nights 
Contact us for an invite at wildspacelearning@gmail.com
6:00pm Collective SILENCE   
6.30pm SOUP
7:00pm SHARE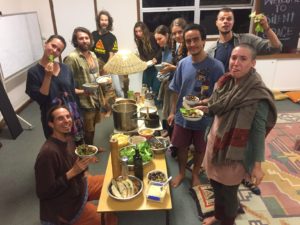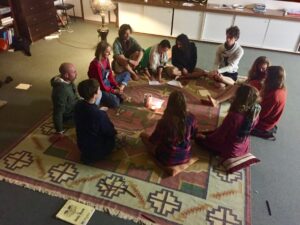 What is a COMMUNAL SPACE? (previously called Gift Gathering)
A space in which people gather in community to share 3 gifts
Firstly, we sit together in communal silence. People are invited to do whatever they choose as long as it is in silence. There is no right or wrong in silence; some draw, others write or read, yet others sleep and of course many meditate.
Secondly, we eat a meal together. Folks bring a plate for a potluck. We chat about our days and come to know each other. Lots of laughter, a little play or movement usually accompany our meal. 🙂
Lastly, during COVID, we sit in a share circle- where people are invited to share whatever they choose, uninterrupted. 
Please note, COMMUNAL SPACES are Family Friendly – as long as the children in your care can be silent for 30 minutes. If not, we suggest you pair up with another family and take turns; sitting the silence and reading/ drawing with the children in the room next door; perhaps a little more gently than usual? 😉
COMMUNAL SPACES outside Katoomba, Mullum Or Clunes
You may have experienced a Gift Gathering at a conference, retreat, festival or in Katoomba, Sydney, Mullum or Clunes.
You may find yourself called or drawn to create such a space in your home town/ city. Please chat to one of the wildspace team as we support people to set up such spaces, as fits the culture of each unique community.
A little history
COMMUNAL SPACES started in Sydney in 2014. Shortly after starting, we found out that Service Space had started a similar experience, called Awakin Circles. Since that time COMMUNAL SPACES have been created in different settings, including many homes. Our dream is that anyone, anywhere in the world can join a COMMUNAL SPACE in their very own neighbourhood. Just imagine how beneficial this would be in small groups as the stresses of life in pandemic restriction waves in and out of our lives.