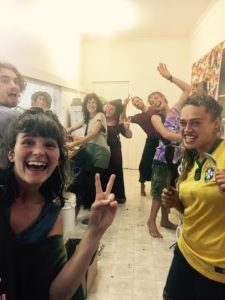 WILDSPACE ACTIVISTS
There are countless ways to be an active participant in changing life; yours, that of your community and that of your planet. Wildspace Activists encourages people to explore these many ways; to empower each of us individually, us as a collective community, to regenerate life on Earth.
We explore controversial conversations and processes to strengthen our practical skills and maintain our emotional strength in both ultra stimulating and challenging times.
We watch and dialogue films – see another wildspace event- Conscious Cinema – https://www.wildspace.net.au/conscious-cinema/- which provides us with plenty of inspiration.
We support one another with our ACTION groups such as Stop Adani,  Frontline Action on Coal, Power Renewables, Local Futures, Residents against Water Mining Uki, CHAMS- Challenging Assumptions of Mainstream Schooling and countless others
To become a member of WILDSPACE ACTIVISTS, we ask that you complete the 2 day Work that Reconnects Deep Ecology workshop. DETAILS CAN BE FOUND HERE – https://www.wildspace.net.au/the-work-that-reconnects-workshop/. You will join a now growing (some 80 local members, many more around the country and the world) group of people keen to explore these different ways to be active in our world. We meet fortnightly on Thursdays 5.45-8.30pm.
Contact juli at wildspacelearning@gmail.com for details- either to participate in the next workshop or to join the fortnightly group.